If you have been in Dakar recently, then you know that the Leopold Senghor International Airport is not only congested and outdated but also in a state of disrepair. The airport lobby is too small, there are hawkers just as you step out of the airport lobby, the immigration desk is a simple makeshift booth with two or three Senegalese police. In fact, my passport was processed in a wooden desk as I stood by. It's not the most comfortable of airports! But the Senegalese are not being left behind as Africa's lions power ahead. Just in the outskirts of Dakar, a new $400 million state of the art airport is being constructed. The Airport will hist Senegal's newly launched airline Senegal Airlines International and the soon to be launched Air Teranga.
Situated 40km from Dakar, the airport will handle 10 million passengers, making Senegal the true gateway not only to West Africa but to the whole African continent. Senegal sits at a strategic position by the Atlantic, close to Europe and a gateway to the Americas. Have a look at the planned Blaise Diagne International Airport , where construction is moving at a breakneck speed:
Work on the stunning new Blaise Diagne International Airport on the outskirts of Dakar is proceeding at pace.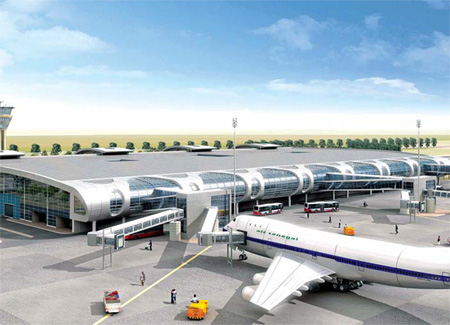 The eye-catching airport will be the operational headquarters of the country's new flag carrier, Senegal Airlines.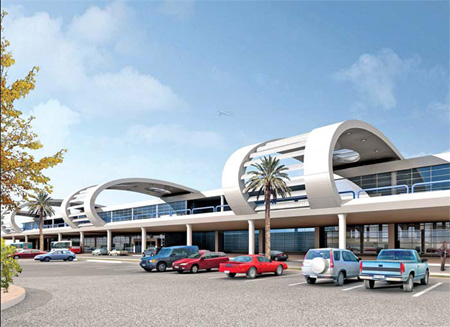 Built at a cost of $400 million, Blaise Diagne will eventually be able to handle 10 million passengers a year.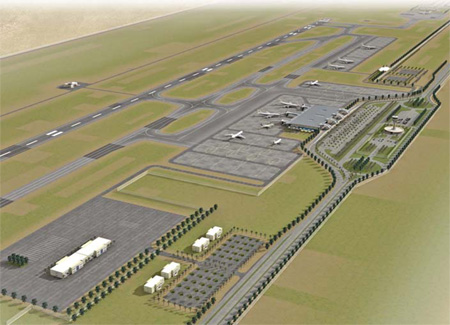 Situated around 40 kms from Dakar, the airport will provide direct and connecting flights to Africa and the world.
Lifting Senegal and West Africa to new Heights
Two-phase construction of Blaise Diagne International Airport now well under way
The jewel in Senegal's transport crown, Blaise Diagne International Airport (Blaise Diagne) is one of the largest and most ambitious infrastructure projects in the country's history, with the state-of-the-art facility set to become the new gateway to the nation and West Africa.
Spread over more than 2,600 hectares, the $400 million airport meets all international safety and security standards and will replace the limited capacity Lopold Sdar Senghor International Airport at Dakar-Yoff.
The old airport currently serves as the main entry and departure point for foreign visitors to Senegal, but senior public and private sector figures have expressed their satisfaction with the pace of construction work at the gleaming new airport, which, according to official forecasts, will serve as many as 5 million people per year by 2025.
Following the January 2011 launch of new government-owned aircraft operator, Senegal Airlines, the new Blaise Diagne aviation facility marks a further milestone in the nation's journey to economic prosperity and civil development.
The flag carrier will use the new airport as its main base and operational headquarters, as will sister airline Air Teranga that is due to begin operations later this year. The low-cost carrier will focus on domestic destinations across the country.
Senegalese ministers and business leaders believe the construction of a modern airport is crucial for consistent socioeconomic development and that it sends out a positive signal to international investors that Senegal is stepping up to the world stage.
President Abdoulaye Wade is confident the multi-million dollar facility will act as a powerful magnet for fresh investment from China and beyond.
"As Senegal prospers and the revitalized private sector becomes the principal employer, investor and economic actor, so our magnificent new airport and Port of Dakar will become two of the core pillars of our economy," he said."We will see soon the deployment of Senegal Airlines' networks to Europe, the Middle East and North America.
"Our ambition is to make Senegal Airlines one of the leading companies in Africa, offering the best service on all its destinations. It will be a key instrument for the development of tourism, commerce and industry and enhance the prominence of Senegal in West Africa and the continent."
Located east of the capital, close to the busy tourist beaches, Blaise Diagne is expected to become the region's leading air traffic hub, with major airlines providing direct and connecting flights to cities across Europe and the Americas.
Among the leading airlines currently offering services to Dakar from destinations around the world are: Air France, Alitalia, Iberia, TAP, Condor, SN Brussels, South African Airway and Lufthansa Cargo.
Phasing in construction
The new airport is being constructed in two phases. Work on the first phase of the project began in April 2007 and includes the construction of a runway that can handle 25,000 planes per year.
The attractive new terminal will have an annual capacity of 3 million passengers and freight capacity of 53,102 tons per year. The second development phase is a medium to long-term target that will start once Phase 1 passenger capacity is reached. The final phase comprises the building of a second runway and all related airside and non-airside facilities capable of handling 10 million passengers a year.
Creating opportunities
Designed by industry experts and financed through a combination of public and private sector funding, Blaise Diagne will be operated by a local subsidiary of German airport management company Fraport AG and its consortium partners.
Fraport was awarded the coveted 25-year contract following a highly competitive international bidding process. Subsidiary Daport SA will handle all terminal, flight, retail and real estate operations, with the airport expected to create hundreds of new jobs for local people. Of the 2,400 workers constructing the airport for leading Saudi Arabian company, SBG, at least a quarter live in villages surrounding the site, with many others residing in nearby urban areas.
"Major investment in important new infrastructure such as Blaise Diagne will turn Senegal into a major international hub from a business and tourism perspective," said Karim Wade, minister of international cooperation, air transports, infrastructures and energy (MICATTI).
"The technologically-advanced airport and comfortable and modern airline will make Senegal a major aviation force in Africa and internationally."
In order to ensure regional airports located near towns and cities can handle the arrival of new domestic carrier Air Teranga, government officials plan to upgrade several existing regional facilities and construct new airports. "We are currently in discussions with a Chinese company about the possibility of improvement works to 15 regional airports," added Minister Wade. "These important works will provide a significant boost to Senegal's domestic air transport infrastructure as we prepare for the future launch of Air Teranga."
These long-awaited airport improvement projects herald a bright new dawn for Senegal's aviation industry, with expanding ground and terminal operations backed up by the launch of Senegal Airlines. The new airline is the result of a strategic partnership with award-winning Dubai based-flag carrier Emirates. The UAE-headquartered airline recently pledged its commitment to Senegal through the launch of a non-stop route between Dakar and Dubai.
Commercial aviation operations will be further enhanced by major changes to ground maintenance procedures and improved monitoring of aircraft equipment. A new service and repair center designed to international standards has been established in Dakar to meet the increasing demands of the domestic and regional market.
"Senegalese law firm EMA Industries was established in partnership with EAS Industries to enable national and foreign operators to have a high level technical workshop for the maintenance of their aircraft," President Wade confirmed. "Along similar lines, the creation of a new aviation training center will provide civil and commercial aircraft operators with qualified technical personnel."
In November 2009, the government signed a letter of intent to buy a six-strong fleet of Airbus planes worth $750 million for Senegal Airlines. The 4 A320 family aircraft and 2 A330 planes would transport passengers to destinations on several continents.
The potential purchase provides extra evidence of the determination to establish an efficient national airline following the poor performance and eventual 2009 demise of its predecessor, Air Senegal International.
"The operational efficiency and passenger comfort offered by the Airbus fleet will enable Senegal Airlines to prosper and grow into a major player in the African aviation market and become a key partner in the economic development of our country," said Minister Wade following the signing of the potential order.
"These various initiatives will continue to be strengthened and improved so that the national aviation sector can fully play its role as a vehicle for growth and economic development engine of Senegal."
He continued: "Combined with Blaise Diagne, Senegal Airlines will allow us to showcase our beautiful and ambitious country to the world and boost tourism and business development."
Building up tourism
As part of the government's drive to diversify the economy and take advantage of Senegal's rich heritage, and natural and cultural assets, ministers are exploring ways of developing the fledgling tourism industry.
Senegal has several UNESCO World Heritage sites, including Gore Island in Dakar Harbor that was used as the point for the millions of slaves shipped to the New World.
Dakar today is a vibrant and safe city that has something for people of all ages. The city is especially popular with art lovers thanks to its many galleries, artists' studios, outdoor art events and activities, museums, and festivals.
The welcoming city is also a shopping paradise and exquisite crafts produced by craftsman skilled in traditional ways are sold in markets, on the streets, and in stores.
The Port of Dakar is one of Africa's busiest ports for cruise liners, with visitors to the bustling city of 2.8 million people offered duty-free shopping and excursions to many local places of interest. Luxury hotels, golf resorts and beachside accommodations provide an ideal base for leisure activities, such as horseback riding, swimming, and aquatic sports.
With many tropical rainforests inhabited by rare flora and fauna, Senegal is eager to cash in on its natural beauty and expand the selection of eco-tourism packages available to foreign visitors.
One of its most popular eco-tourism destinations is the small archipelago called Saloum Delta Islands. Situated near the border with The Gambia, the tranquil coastal and marine park is a natural paradise teeming with bird and marine life.
"We have at least two competitive advantages in fishing and tourism, which offer huge potential to foreign investors," said President Wade. "Many Chinese enterprises are already active in Senegal's economy, and well placed to take advantage of the opportunities created by an under-developed tourism sector."
Post Courtesy China Daily
Email Us at FlightAfricablog@gmail.com