Post Courtesy Arabian Aerospace
"Sometimes underestimated, often romanticised, and always admired,"
Cabin crew uniform is often the first thing that distinguishes one airline from another in the minds of passengers and, therefore, is vital for carriers to get it right. Kelly Green looks at how airline fashion is changing.
Much of an airline's reputation is entrusted to the care of its cabin crew who, as the public face of the organisation, can leave a lasting impression on passengers in an increasingly competitive and crowded industry.
This impression is ever more significant in today's fast-growing market, at a time when the once-glamorous vision of air travel is clouded by security threats, long queues and delays.
Etihad Airways Cabin Crew

Today, airlines are building their brands through memorable crew uniforms and clever marketing campaigns (using cabin crew as the main selling-point) to recapture the glamour that flying has long evoked.
With so much of an airline's public image resting on its crew, it is unsurprising that over recent years it has become popular for airlines to commission the world's best fashion designers to create stylish staff uniforms.
Gulf Air's online recruitment page boasts that "Gulf Air has a legacy of service and style built on more than 55 years of Arabian hospitality." Eager to maintain its style legacy, the airline chose to celebrate its 40th anniversary back in 1990 by commissioning world-renowned fashion house Balenciaga to design a new light-blue and peach cabin crew uniform – a stark contrast to the brown and cream outfit that had been worn by the airline's flight crew for the previous 20 years.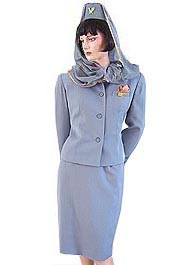 Gulf Air Cabin crew Uniform in the 1990s after redesign by the

Balenciaga Fashion House (Photo Courtesy Knoppen)
"Smart Airline, Successful Business"
Bahrain's Gulf Air Uniform from 2000 (Photo Courtesy Fareed Amin Photography CC)
In 2000, the airline introduced its current dark navy blue uniform, designed by another renowned fashion house – Balmain of Paris. This was intended to reflect the changing face of Gulf Air and the motto: "Smart Airline, Successful Business". Marcus Bernhardt, Gulf Air's chief services officer, said of the uniform: "It is a reflection of what Gulf Air is all about – the hallmark Arabian hospitality, warmth, presentation, progression, modernity and, above all, a corporate statement."
Royal Jordanian (RJ) also chose to mark its 40th anniversary with a new uniform for its cabin crew, announcing in 2003: "A very public part of the airline's image is the RJ cabin crew's uniform and this year, as part of its 40th anniversary celebrations, RJ decided it was time for a change."
Royal Jordanian current Uniform
This was not the first time that RJ had revamped its uniform. Between 1976 and 1982 Lebanese designer Papou Lahoud created the uniform for RJ pilots and stewardesses, for which she won IATA's 'best uniform design' award in 1986.
An Italian designer took over the responsibility of RJ's uniforms for the next 20 years. However, unlike Gulf Air, RJ did not engage a celebrated fashion house to provide its new design in 2003 but, instead, chose to reflect its role as a national carrier by enlisting a Jordanian company, Elzay Ready Wear Manufacturing Company. At the time, a spokesperson for Elzay said: "Royal Jordanian wanted a change; a new uniform for the new millennium that is more elegant and distinguished, and reflects the heritage of Jordan."
Colours were chosen to symbolise Jordan as a country – red, white and charcoal. "Red is a very prominent colour here and it was chosen for the women's uniform, while the men's is mainly charcoal."
A spokesperson for RJ told Arabian Aerospace: "The RJ uniform should always be consistent with the colours of the aircraft and, thus, of the RJ colours in its offices. Moreover, RJ Crown Class crew members wear traditional Jordanian dress, worn by the women in the Jordanian villages, in a move to promote Jordan and its traditional life and costumes. RJ called these traditional dresses Yahala, which means 'You are most welcome'."
Teresa Stedman, managing director of Stedman Corporate Clothing Ltd, said the choice of colour plays an important role in uniform design. "The colour of a uniform helps present an appropriate impression as it has a psychological effect on both the wearer and their customer."
Qatar Airways' plum-coloured uniform must have hit the right note with customers, as it was voted 'most stylish' by Skyscanner users in a poll in September 2010. The deep-maroon uniform, a colour often associated with
dignity, nobility, and power

,
reflects the airline's logo, which Stedman argued is important, so as to be easily recognisable.
Qatar Airways Cabin Crew
Qatar Airways Cabin Crew
Oman Air also chose to co-ordinate its uniforms with the company colours when, in September 1999, it unveiled a new eye-catching turquoise-blue outfit, designed by the house of Balenciaga, which matched its livery.
Oman AirCabin Crew Uniform from 1999
"Ultimately, a uniform enables staff to become ambassadors for their company and act accordingly. In being dressed in the company colours, staff immediately represent their airline," Stedman added.
As company representatives, airlines will often stress the importance of appearance to staff from the very beginning of their careers, as illustrated on Virgin Atlantic's online cabin crew recruitment page: "
Finally, you'll be the face of the airline. As such, your grooming should always be immaculate – even after a long, tiring flight."
For this reason, uniform designers and manufacturers must carefully choose the fabric to be used, as Shane Bray,
MD of European professional-wear provider Kwintet International, explained: "The fabric also needs to be a careful consideration as crew need to look as immaculate at the end of a long-haul flight as they did when they boarded the aircraft. Turbulence can wreak havoc when food and drink are being served, so stain-resistant fabrics and finishes are key."
Recently, there have been a number of nostalgic attempts to recall the romance of flying and bring it to the forefront of the public's imagination, from Hollywood cinema and museum exhibitions, to global advertising campaigns and television shows.
"Sometimes underestimated, often romanticised, and always admired,"
"Sometimes underestimated, often romanticised, and always admired," is how flight attendants were described in a press release for the recent Style in the Aisle exhibition, which took place from January-July 2011 at the Museum of Flight in Seattle, USA, and showcased the history of American cabin crew uniforms.
Meanwhile, the Vintage at Southbank festival held in London, UK, in July 2011, featured a catwalk show of British Airways' vintage cabin crew uniforms. Promoting the event, fashion designer Wayne Hemingway, announced: "Through the decades, British Airways uniforms have always invoked the glamour and style of flying."
Virgin Atlantic notably played on the association between flying and glamour in its recent James Bond-style television advertising campaign, which portrays attractive flight attendants wearing the airline's iconic red uniform, skyscraper red heels, and glossy red lipstick. The sexually-charged global campaign no doubt assisted the airline in winning the accolade of 'most attractive' flight attendants in a survey of 1,000 British business travellers, conducted by Business Travel and Meetings Show (BTMS) in February 2011, with the airline receiving a massive 53% of the votes.
Middle East carriers also achieved highly in the poll, with Etihad Airways' uniform, designed by Italian haute couture fashion designer Ettore Bilotta, taking third place behind Singapore Airlines with 12% of the votes, and Emirates Airlines taking fourth place with 11%.
Etihad Airways has a strong relationship with the fashion world, as was displayed in September 2007 when it celebrated the launch of flights between Abu Dhabi and the fashion capital Milan with a catwalk show exhibiting Bilotta's new winter 2007 collection. James Hogan, Etihad Airways' chief executive, said at the time: "There has been tremendous excitement surrounding the start of Etihad's new Milan service, so what better way to mark this momentous occasion than to stage an Italian fashion show here in our home-base of Abu Dhabi."
According to Etihad's online factsheet, Bilotta's philosophy in designing the Etihad uniform was "to communicate the welcoming hospitable values of the Arabian culture in an international, cosmopolitan context, while at the same time designing for the comfort of the crew in the air and the airline's ground staff".
While aesthetic considerations are obviously important for building and establishing an airline's brand, many more aspects are taken into account when designing airline uniforms, including the safety and comfort of clothing.
"Long skirts can restrict movement and are particularly dangerous when combined with high heels, which can become caught in hems. Ties, too, can be a safety hazard," Stedman commented.
When Emirates Airlines introduced a new staff uniform in 2003, it was essential that it could be adapted to suit different environments. "This is vital when the conditions on the ground for staff can vary from Sao Paulo in Brazil through Newcastle in England to Hong Kong in Asia," said Terry Daly, Emirates' senior vice president, service delivery. "In this new design we have addressed style, comfort, the suitability for different climates – for cabin crew and ground staff – and managed to retain the iconic and instantly recognizable hallmark of our uniform worldwide."
Ultimately, perhaps more so for the aviation industry than any other, staff uniforms must inspire confidence and communicate a responsible corporate image, so that passengers are assured that their safety is in good (freshly-manicured) hands.
"Figures of authority are traditionally identified by their uniforms," Stedman told Arabian Aerospace. "This is particularly true of airlines and certainly in the current environment of heightened security we take assurance in being able to easily identify official figures by their clothing.
"A uniform reinforces the expectation that staff are trained and competent professionals, providing additional assurances to customers that our trust is in safe hands. In the case of airline staff, this effect is multiplied, as our safety is entirely in their control. A smart, streamlined and corporate image that promotes trust and dependence communicates this important message."
Email Us at FlightAfricablog@gmail.com